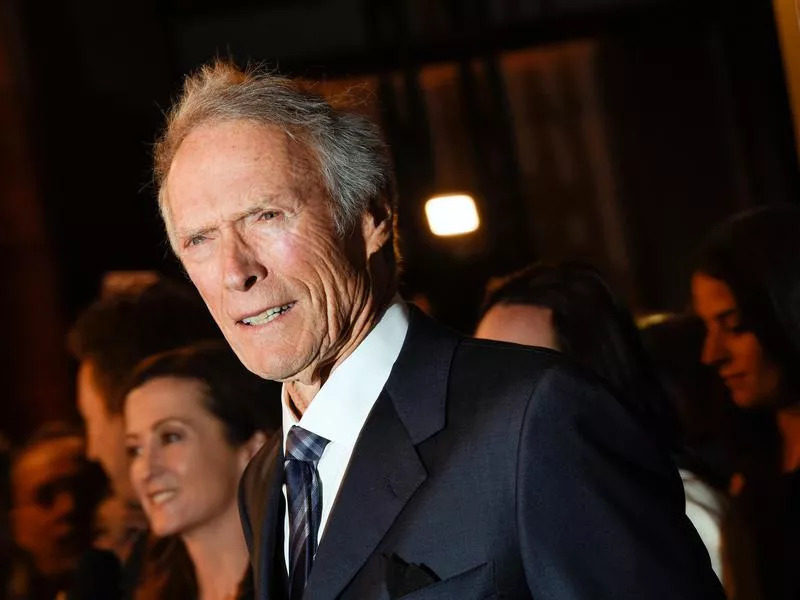 Growing up, Clint Eastwood's mother said of her tall and handsome son, "It's a shame he wasn't born rich, because he could have had so much fun."
She was probably right — although he probably wouldn't now be worth about $375 million if he didn't have to work so hard for it.
Born during the Great Depression, Eastwood grew up with a transient family, his parents taking odd jobs in different places to make ends meet, travelling along the West Coast down roads that would finally bring a young Eastwood to his first acting roles.
Now 88 years old, the silver screen legend who brought a new form of machismo to Hollywood has starred in some of the most quoted films of all time, and directed some of Hollywood's best movies. Here are the ways Clint Eastwood became the icon he is today.
He Was Expelled From High School
The Eastwood family settled down in Piedmont, California throughout most of the 1940s. There, Eastwood attended Piedmont High School — until he was expelled for tearing up a wet football field with his bike.
Eastwood probably didn't care. He hated school and was already held back during middle school for bad grades. Plus, he got to enroll in Oakland Technical High School, where he got to work with his hands.
It's not entirely clear that Eastwood graduated from Oakland Tech.
He Worked a Bunch of Odd Jobs
After school and during the summer, Eastwood took jobs baling hay and working for California's forestry service clearing brush and putting out fires.
He forged metal at Bethlehem Steel, sold bonds, worked on aircraft parts at Boeing, bagged groceries, patrolled the beach as a lifeguard, worked at a canning company, worked as a lumberjack in Oregon (where timber fell on him and messed up one of his knees), and caddied for the upper crust at Claremont Country Club.
He Was Drafted into the Korean War
Except he didn't fight. Nor did he want to. According to "Clint Eastwood: A Biography" by Richard Schickel, Eastwood tried to get out of the draft by calling the draft board and saying he was just about to enter college.
No dice.
Not wanting to be in the army in the first place — and much less so during wartime — Eastwood and a friend finagled their way into lifeguarding at Fort Ord in California rather than going overseas. He also picked up a paying gig as a bouncer at the fort's NCO (Non-Commissioned Officers) Club.
But it wasn't all smooth sailing.
He Survived a Crash Landing
After getting a weekend pass, Eastwood decided to hitch a ride to Seattle in a twin-engine Beechcraft. According to Schickel, the biographer, it was a ride from hell.
Eastwood was looking to spend some time with his girlfriend and see his parents, who had relocated there. During the ride, the door popped open, and couldn't be kept shut so Eastwood held it closed and then jerry-rigged it shut with some loose cables. In an effort to avoid an oncoming storm, the pilot chose to fly above it, causing the air to thin out.
The in-flight oxygen system where Eastwood sat wasn't working, causing him to get light headed. He found an oxygen mask, but that wasn't working either. Then the plane was running out of fuel, so the pilot flew to Port Reyes for a crash landing at sea. It was successful, but the pilot and Eastwood — the only two men in the plane — had to swim to shore. They didn't know it at the time, but the sea was infested with sharks. Luckily they both made it to shore after swimming from the late afternoon until dark.
Maybe it was what inspired Eastwood to tell a similar story in his 2016 film, "Sully."
He Dropped Out of College
After his stint in the army Eastwood decided to give academics another go. He was accepted to Los Angeles City College and picked his major in business administration.
He lasted about one year until he dropped out to pursue acting full time.
As a Young Actor, He Had no Idea How to Act
Eastwood made a friend at Fort Ord who had contacts in Hollywood, and sometime around 1953 or 1954, he met with a Universal Studios contract director, Arthur Lubin, who was struck by his good looks.
But Eastwood had no idea how to talk, move or you know, act.
Luckily this contract director was working for a new production studio that searched for and trained new talent. Eastwood was hired on with a provisional seven-year learning contract at $75 a week.
Eastwood Thought Acting Would Be Easy
According to Schickel's biography, Eastwood had a "basic aversion to hard work."
Eastwood's longtime friend and producer, Fritz Manes, theorized to Schickel that Eastwood got into acting so he didn't have to work so hard, saying: "I don't think he wanted to do something that was too taxing. I don't think he realized how taxing acting was."
His First Real Contract? $100
Eventually, Eastwood had learned enough to start getting bit roles in films.
Eastwood's first working contract with Universal upped his pay to $100 a week for twenty weeks, with extensions up to six months. Adjusted for inflation, that's about $916 a week in today's money.
His First Bit Part Was in a Terrible Movie
Did you know they made a sequel to "The Creature from the Black Lagoon" called "Revenge of the Creature" in 1954? And did you know it was Eastwood's film debut?
Granted, it was in an uncredited bit part as a lab assistant who misplaces a lab rat. As for the movie, it was bad enough to get its own "Mystery Science Theater 3000" episode.
Universal Fired Him Because of His Adam's Apple
In 1959, about five years after Universal hired him, they fired him.
Eastwood had landed only bit, uncredited roles in nine out of 11 movies during his time with Universal, although he did get third billing in the 1958 film "Ambush at Crimson Pass." Eastwood later called this "probably the lousiest Western ever made."
But according to thickly mustached actor Burt Reynolds, Eastwood wasn't fired because of his lacking filmography. As he told Larry King:
"I went under contract to Universal in 1958 and was fired in 1959. I always tell the story that we were fired the same day, but we weren't. We were fired the same year. And he was fired because his Adam's apple stuck out too far. He talked too slow. And he had a chipped tooth and he wouldn't get it fixed. And I said, 'Why are you firing me?' And they said, 'You can't act.' I said to Clint, you know, you are really screwed, because I can learn how to act. You can't get rid of that Adam's apple."
He Got His Real Start in Television, and it Paid Well
During his early years, Eastwood appeared on a few episodes of television, usually playing bit parts or minor roles.
Finally in 1959 he nabbed a starring role in "Rawhide," a Western TV show based on two cattle ranchers in the late 1800s dealing with the hardships of travel (and lots of bad guys to shoot).
The show was a hit, lasted for eight seasons until 1966, and gave Eastwood the attention he needed to land a big screen role. Plus, it was lucrative. By the end of its run, Eastwood was making $100,000 per season.
His First Film Role Paid a Lot Less
The going rate for an actor like Eastwood in the late 60s was around $25,000. But the first role offered to Eastwood was substantially less than that.
Turns out an Italian director was looking to shoot a Spaghetti Western called "A Fistful of Dollars" but could only afford $15,000. Eastwood took the role, which was a huge markdown from "Rawhide," but he clearly saw something in the movie. It became the first in a trilogy of films, including "For a Few Dollars More" and the classic, "The Good, the Bad, and the Ugly," which still stands as one of the best Westerns ever made.
He Got a Sweet Deal for "The Good, the Bad and the Ugly"
By the time "The Good, the Bad and the Ugly" was in production, Eastwood was now ready to play hardball and refused to show up until his demands of $250,000 and another new Ferrari were met. (Earlier, in lieu of $25,000, he had opted for a Ferrari for starring in the Italian film "The Witches.")
But Eastwood apparently wasn't very invested in "The Good, the Bad and the Ugly" itself, disliked his character and thought there was too much dialogue.
But He Still Had Trouble Finding Work
The "Dollars" trilogy was financially successful, but critics initially panned it and Eastwood wasn't yet a real movie star.
According to "American Rebel: The Life of Clint Eastwood" by Marc Eliot, the actor wasn't yet seen as an American movie star because the  Spaghetti Westerns were all Italian made and didn't take Eastwood seriously: "At best they considered his current movie success to be a fluke, the product of a novelty, and at worst they still thought of him as a TV actor, a ghetto from which few actors managed to escape."
He Launched His Production Company in 1968
While Eastwood now spends more time behind the camera than in front of it, his production company started fifty years ago. Eastwood founded the Malpaso Company (now known as Malpaso Productions) in 1968.
According to Eliot, Eastwood started the company so he would have more control over his character for his next film, "Hang 'Em High," which Malpaso produced. "Hang 'Em High" was made for approximately $1.5 million and grossed $7 million at release, according to Eliot.
This was the movie that rocketed Eastwood to stardom.
His Rate Went Up and Up
His next film, "Coogan's Bluff," earned him a cool $1 million.
And He's Produced Dozens of Films
Since its founding, Malpaso Productions has produced, directly or indirectly, 56 films — basically every movie starring Clint Eastwood since 1968, including the "Dirty Harry" series.
And he shows no signs of slowing down. Eastwood's latest movie, "The Mule," is a true story about an 88-year-old drug dealer (played by Eastwood). It opened to over $100 million at the box office and received positive reviews.
His Movies Are Really, Really Good
Despite his lack of formal education, Eastwood's directorial chops are phenomenal.
The man has directed and produced critically acclaimed and award-winning films like "Mystic River," "Unforgiven," "Million Dollar Baby," "Midnight in the Garden of Good and Evil," "Letters from Iwo Jima" and "The Bridges of Madison County."
And They Make Tons of Money
Since 1971, Eastwood has directed nearly 40 movies. His biggest financial successes have been 2014's "American Sniper," which earned over $350 million at the box office, followed by "Gran Torino" ($148 million) and "Sully" ($125 million). According to Box Office Mojo, films with Eastwood in the director's chair make an average of $54.3 million each.
But a Few of Them Stink
Clint Eastwood has a filmography of over 70 movies, and surprisingly few have bombed at the box office, even if they bombed with critics. But every actor has a few total stinkers in their highlight reel. Here are a few of Eastwood's:
      "Paint Your Wagon": Eastwood agreed to act in this 1969 western comedy/drama/musical because he liked the original script — but by the time he had signed on, the movie was taking a turn for the worse. Eastwood wanted out, but when he signed on, so did the director and producer. Not wanting to disrupt the entire movie, Eastwood carried out his commitment to the film, which had a bloated $20 million budget and netted only $14.5 million at the box office. Eastwood made about $600,000, according to Schickel's biography.
      "City Heat": A 1984 action/crime/comedy starring Eastwood and his buddy Burt Reynolds seemed like a hit on paper, but only made $38.3 million against a $25 million budget (in Hollywood accounting, that's bad). An action sequence left Reynolds with a broken jaw, which led to temporomandibular disorder.
      "Pink Cadillac": Perhaps Eastwood's worst movie ever made, 1989's "Pink Cadillac" wasn't just bad, it was terribly marketed. Studio execs made the mistake of premiering it on the same weekend as "Indiana Jones and the Last Crusade." The film made $4.4 million during its first weekend and eventually grossed $12.1 million against a budget of $14.4 million.
      "White Hunter Black Heart": While favorably received by critics, Eastwood's 1990 drama (which he directed) only made $2 million off of a $24 million budget.
He Didn't Want To Play Superman
Could you imagine Eastwood running into a phone booth, changing out from a suit and into red-and-blue spandex, and then flying off to fight crime? Neither could he.
Eastwood turned down the role in the original "Superman" film in 1978, allowing Christopher Reeve to play the part. Eastwood also declined to take the role of 007 when Sean Connery almost didn't do "Diamonds Are Forever."
He also turned down "Apocalypse Now," where he would have replaced Martin Sheen.
He Wasn't First in Line for "Dirty Harry"
Before the script made it to Eastwood, Frank Sinatra was first in line to play Harry Callahan. However, Sinatra had a hand injury — reportedly from an old broken wrist injury he incurred during filming of "The Manchurian Candidate" eight years prior — and would be unable to hold the famous .44 Magnum.
Eastwood thought that was "a pretty lame excuse."
He's a Musician
While he was younger, Eastwood loved music, particularly jazz, and was actually pretty damn good at piano and not bad at singing. Here's a clip of him not gritting his teeth or squinting during a musical piece on "Rawhide."
He even released his own album, "Clint Eastwood Sings Cowboy Favorites" in 1963 and had released a single in 1961 called "Unknown Girl Of My Dreams." In 2001, he released a two-disc live album, "Eastwood After Hours: Live at Carnegie Hall," where he played music with various jazz musicians.
His earlier stuff didn't gain any notable traction, but "Eastwood after Hours: Live at Carnegie Hall" was well received.
He Gets Involved in Politics
Eastwood's foray into politics may have hit its zenith during the 2012 presidential election, where he delivered a really strange speech to an invisible Barack Obama sitting in an empty chair, but he's done much more than that.
He Was Even a Mayor
In 1986, he was elected mayor of a 4,000-person town in California called Carmel-by-the-Sea. Eastwood was aggravated that the local government wouldn't allow the sale of fast food, mainly ice cream, which would have been eaten on the streets! The horror.
He Has How Many Kids? With How Many Women?
Google for just how many kids Clint Eastwood has, and the consensus is seven.
However, his own daughter, Alison, told the Sunday Times in 2011, "My dad has eight children by six women — he's 81 now and his youngest child is 14; he's very hands-on with her."
Either way, seven or eight, he's got a lot.
He Doesn't Seem to Like Marriage All That Much
It appears that, aside from formal education, marriage is something that Clint Eastwood just isn't good at.
According to Eliot's biography, Eastwood once told an interviewer: "The first year of marriage was terrible. If I had to go through it again, I think I'd be a bachelor for the rest of my life. I liked doing things when I wanted to do them. I did not want any interference. … One thing Mag had to learn about me was that I was going to do as I pleased. She had to accept that, because if she didn't, we wouldn't be married."
But He Keeps Trying
Eastwood divorced his second wife, Dina Ruiz, in 2014. He's currently dating 52-year-old Christina Sandera, and rumor has it they're engaged.
Maybe the third time's the charm?
He's Big on Meditation, But Not Religion
You won't find Eastwood at church on a Sunday morning because he will be meditating. In fact, he meditates every day, twice a day, and has been doing so for over 40 years, he told a reporter in a 2009 interview with GQ. He also discussed his own spirituality.
"I believe in whatever self-help you can give yourself, whether you believe in Buddha or whatever," he told GQ. "I used to be much more of an agnostic. I'm not really a person of an organized religion. But I'm now much more tolerant of people who are religious, because I can see why they got there. I can sympathize."
He's an Avid Golfer
Eastwood caught the golf bug way back when he was caddying for the elite in Oakland, and it never left him. And he started off like most of us.
"I was 21 years old and I wasn't very good," Eastwood told Global Golf Post. "My friend and I just went out and tried to hit the ball as hard as we could. The ball would go in a lot of different directions. But we had a good time."
When he became famous, he received numerous invitations to the Pebble Beach Pro-Am tourney. He recalled playing in 1987 with Jack Lemmon, who had a tee shot near the ledge of a cliff.
"Jack says he's going to play it," he told Global Post Golf. "I went over and grabbed him by the belt so he wouldn't kill himself and then his partner Peter Jacobsen grabbed my arm because he thought we were both going to fall. Turns out that my partner Greg Norman had grabbed onto Jake's belt and Greg's caddie grabbed his. The whole thing was caught on television. They called it 'The Human Chain.' I don't think it was the smartest thing I ever did, but we lived, so it's a great story."
He Owns the Tehama Golf Club
If you love golf and you have the kind of cash that Eastwood does, what would you do? Get your very own golf course, naturally. In 1998, the filmmaker built an 18-hole golf course and 18,000-square-foot clubhouse in Carmel. Just don't expect to show up and drive — Tehama Golf Club is private.
Traffic on the Horizon? Get in the Chopper
Eastwood obtained his helicopter's license sometime around 1990 — after buying an A-Star chopper from Paris — and loves to fly. According to Eliot's biography, Eastwood would fly from his home in Carmel to work in Hollywood, knocking off hours from his commute.
Do You Feel Lucky? Or Would You Rather Just Have the Prime Rib?
In the late '80s, Eastwood purchased a neglected, 22-acre 1850s ranch in Carmel-by-the-Sea for $5 million to save it from being developed into condominiums. Then he went to work restoring and converting Mission Ranch into a restaurant and hotel. It's still operating today and, according to most Yelp reviewers, Eastwood's restaurant serves some good food (it's apparently known for its prime rib). Instead of a singular hotel, guests stay in a variety of converted ranch houses. You can also book Mission Ranch for Weddings.
He Won't "Let the Old Man In"
In a 2016 interview with Esquire, Eastwood was asked how he stayed so vibrant. His response?
"Yeah, you're as young as you feel. As young as you want to be," he said. "There's an old saying I heard from a friend of mine. People ask him, 'Why do you look so good at your age?' He'll say, 'Because I never let the old man in.' And there's truth to that. It's in your mind, how far you let him come in."
So there you have it, the secret to staying youthful. If you see the old man coming across your yard to start complaining about the price of groceries or the local kids, tell him to get off your lawn.
By Craig Donofrio